Glossary of Terms Related to Work Based Learning
A vast cluster of activities occurs under the umbrella of "Work Based Learning", and this glossary is an attempt to help clarify the most common or definitive meaning of some of its associated terms. It is hoped that a common language will facilitate communication both within and across district and agency boundaries.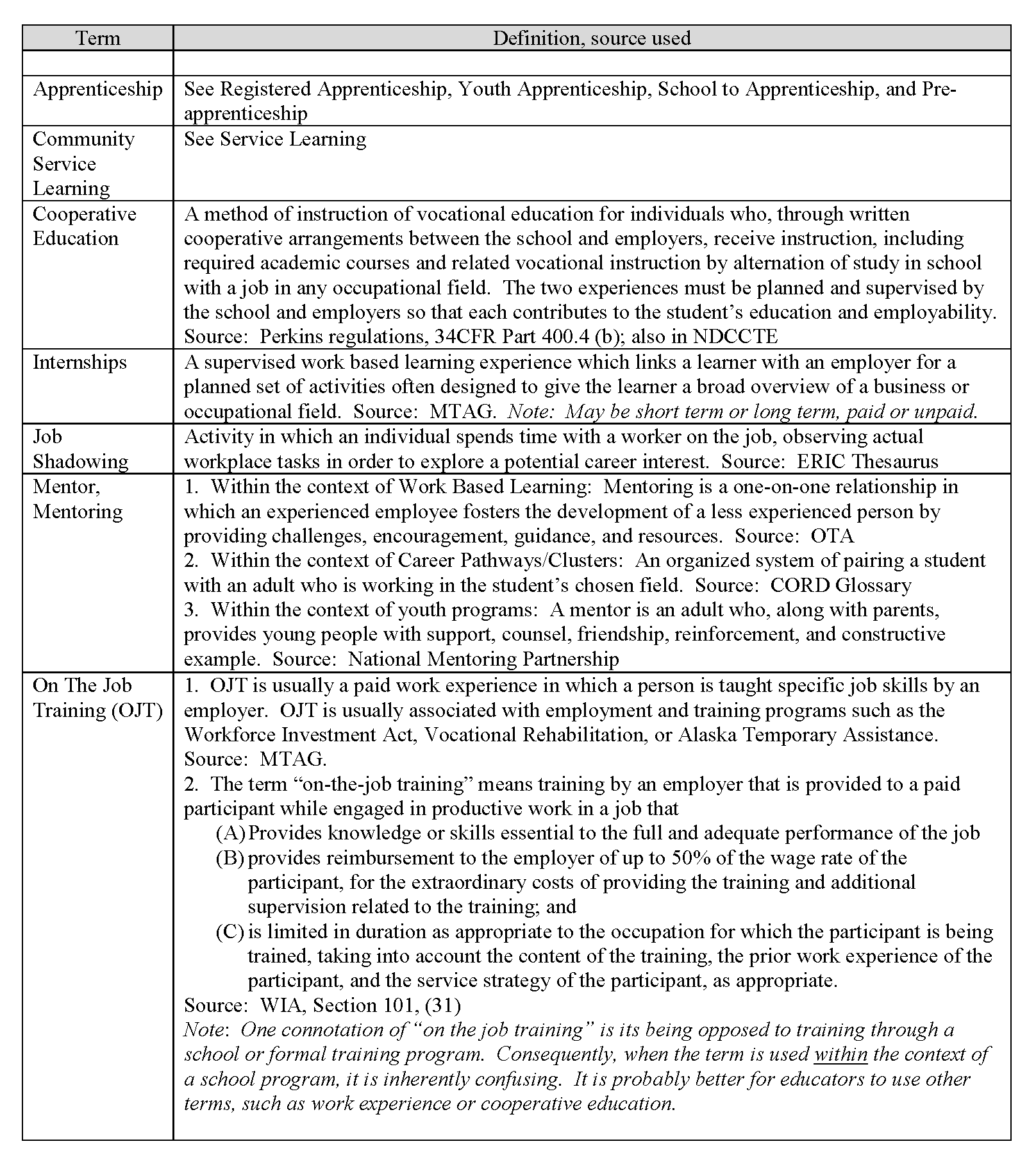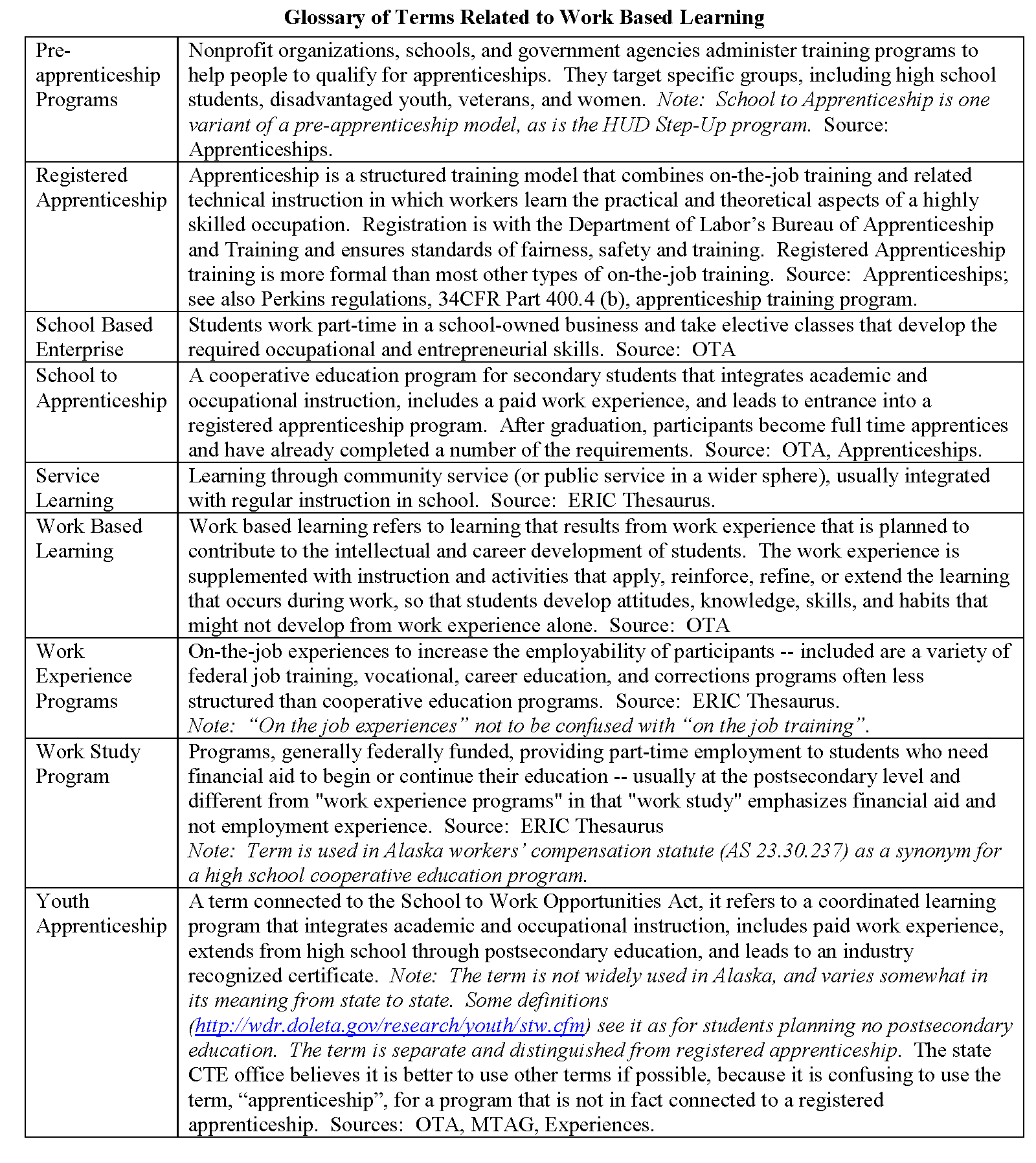 Glossary of Terms Related to Work Based Learning
Sources for definitions, listed alphabetically
"Apprenticeships", in Occupational Outlook Quarterly, summer, 2002. Reprinted by the Bureau of Labor Statistics, U. S. Department of Labor. Website: http://www.bls.gov/opub/ooq/ooqhome.htm.
CORD Glossary. Found at the National Tech Prep Network Members resource library; website: http://www.cord.org/lev1.cfm/2
ERIC Thesaurus: Educational Resources Information Center, Processing and Reference Facility, on the web at http://www.ericfacility.net/extra/pub/thessearch.cfm
"Experiences and Lessons of the School-to-Work/Youth Apprenticeship Demonstration", Research and Evaluation Report Series 97-E, Employment and Training Administration, Office of Policy and Research, 1997. Web site: http://wdr.doleta.gov/opr/fulltext/document.cfm?docn=6121
MTAG: Washington State's Manufacturing Technology Advisory Group, Prepare Tech Prep Students Today for the Workforce Tomorrow, March, 1995, Glossary, pp. 43-46. Publication can be found at http://www.cord.org/lev2.cfm/147
National Mentoring Partnership website: http://www.mentoring.org/
NDCCTE: Measuring Tech Prep Excellence; A Practitioner's Guide to Excellence, published by the National Dissemination Center for Career and Technical Education, Glossary, pages 57-60.
OTA: U.S. Congress, Office of Technology Assessment, Learning to Work: Making the Transition from School to Work, U.S. Government Printing Office, 1995, available on-line at: http://www.wws.princeton.edu/~ota/ns20/pubs_f.html. Definitions utilizing this source generally paraphrase from the text as opposed to being exact quotations.
Regulations Governing the Carl D. Perkins Vocational Education Act, (CFR title 34, Part 400.4), issued August 14, 1992, available from MII Publications, Washington DC, or on-line at: http://www.access.gpo.gov/nara/about-cfr.html#page1.
WIA: Workforce Investment Act, Section 101 online at: http://www.doleta.gov/programs/factsht/wialaw.cfm.
Work Related Learning Guide, published by Jobs for the Future, August, 1999. Although not specifically cited above, this has useful explanations of terms and models. Accessible at http://www.jff.org/jff/kc
Glossary of Terms Related to Work Based Learning – Download [Optimized PDF]
Glossary of Terms Related to Work Based Learning – Download